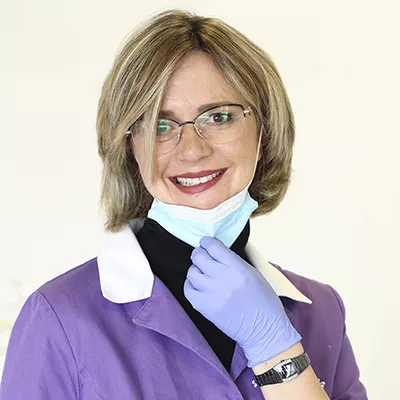 expert in root canal treatments
In 1993 I graduated from the State Dental University in Nizhny Novgorod, Russia.

When I immigrated to Israel, I passed government tests and received a license to practice dentistry here in Israel.

From 1993 to 2001 I worked as a general dentist in a private and public clinic.

In 2001 I began to specialize in endodontics (root canal treatment) at the School of Dental Medicine at the Hebrew University.

Since 2003, I specialize only in endodontics.
In addition to working in the clinic, which provides me to have personal meetings with clients of all ages and wonderful collaborations with dentists throughout the area who route patients to me, I decided in 2011 to return to my studies.

I chose to study and finish a program in personal training - coaching, about the scientific approach to behavior, at Tel Aviv University. These studies enable me to help clients outside the clinic on their way to self-fulfillment, change, and success.

Inside the clinic, I am interested in each of the clients personally, learning about their lives and discovering their world. That way I can help them prepare for therapy, which many fear and provide them with mental and soulful preparation.
Torah is always in fashion!
Torah Quest is a unique project by Luba Bar-Sef and Lara Troyanovskaya, which
broadcasted weekly for an audience of Russian-speakers worldwide to provide them access and connection to their origin and legacy. The video blog presents the summary of the weekly Torah Portion in a light and an enjoyable way, emphasizing the relevance of the Portion and the whole Torah to everyday life.
There are English and Hebrew subtitles
Here is video promo with Hebrew subtitles